Published below is the latest live information confirmed from stringers and sources in Papua regarding todays's mobilisations.
Live tweets are in Indonesian, but you can use auto-translation via twitter, just click on the embed.
DUE TO FAILURE OF WORDPRESS.COM EMBEDS OF SOCIAL MEDIA, PLEASE FOLLOW LIVE UPDATES AT TWITTER.COM/WESTPAPUAMEDIA UNTIL FURTHER NOTICE. SORRY, BUT WE DON'T HAVE TIME TO SORT OUT BACKEND CODE.THANKS A LOT WORDPRESS.COM 
YOU CAN HELP US TO PAY FOR MORE ADVANCED SERVER COSTS ($900 PER YEAR) BY URGENTLY VISITING WESTPAPUAMEDIA.INFO/DONATE AND GIVING GENEROUSLY.
You can send any first hand updates or media to Editor @ westpapuamedia.info (no spaces) or via SMS to +61498239869.  Secure SMS and calls to this number can be made with Signal from WhisperSystems
WestPapuaMedia's #LIVEUpdatesPapua Coverage Began at 1030 Am West Papua Time

Demo video from gate of Uncen, Abepura
Papua women are on the road up towards oration UnCen from Expo and Abe. #LiveUpdatesPapua
perempuan Papua sedang orasi di jalan naik menuju UnCen dari Expo dan Abe. #LiveUpdatesPapua pic.twitter.com/0GLkV8zdAd

— Bantuan Hukum (@LBH_Jakarta) April 13, 2016
While in Merauke, 14 activists have already taken to Polres Merauke.
Sementara di Merauke, 14 aktivis sudah dibawa ke Polres Merauke. #LiveUpdatesPapua pic.twitter.com/4KesHfGoCD

— Bantuan Hukum (@LBH_Jakarta) April 13, 2016
Bisa cek di no Kapolres Runtini 08114900065 #LiveUpdatesPapua

— Bantuan Hukum (@LBH_Jakarta) April 13, 2016
Di Polres Jayapura, narsum LBH Jakarta tidak diperkenankan utk bertemu/bicara dgn 8 kawan yg ditahan. #LiveUpdatesPapua

— Bantuan Hukum (@LBH_Jakarta) April 13, 2016
Jayapura 1115AM:  First reports of attempts by security forces to shut down gathering in Waena, Jaypura.  Police have moved in at the traffic lights, reportedly pushing with riot shields, seizing 5 trucks belonging to KNPB.  Crowd currently is maintaining peaceful disposition.  
in frot of Imbi market front, eight people were just arrested and taken to Polres Jayapura. More to come
Jayapura: 1048AM  Hundreds of people are already on site at Expo Waena listening to speeches on street attempting to march to Taman Imbi.  Heavily armed security forces and many plain clothes intelligence officers already waiting.
From Ferry Marisan, Director of ELSHAM  Papua:  "Quick info in Jayapura..mass of KNPB, students and the Papuan People gathered on the campus of the University of Cenderawasih, about 300 people, in  Expo Waena complex about 250 people , and now the masses at Expo Waena move towards Jayapura, but detained by the Police at the Red lights in Waena… while I'm behind a mass of Expo Waena and being stuck already waiting for  30 minutes … "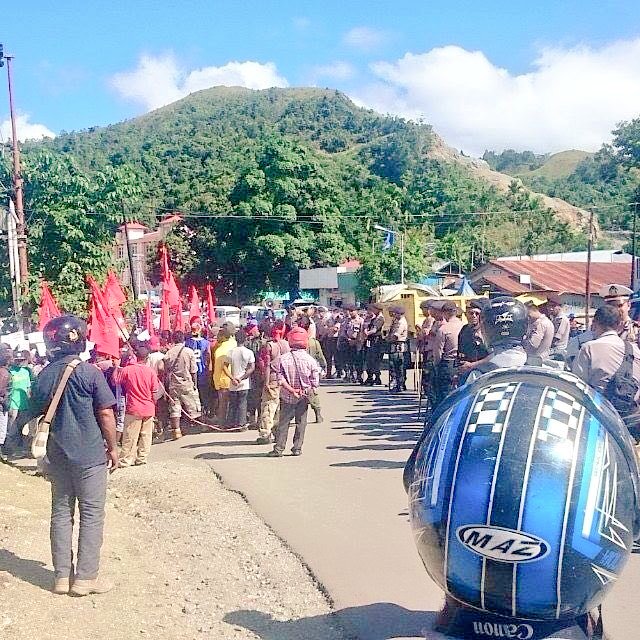 Massa Aksi demo hari ini di dpn toko topaz waena. Bergerak … pic.twitter.com/vxHgUjFe4x

— WeneMedia (@WeneMedia) April 13, 2016
Massa aksi dari ekspo waena sudah bergerak. pic.twitter.com/76xcKE2j1s

— WeneMedia (@WeneMedia) April 13, 2016
Aksi massa di ekspo waena dlm penjagaan ketat aparat keamanan #WP4MSG pic.twitter.com/aobs7jX07g

— WeneMedia (@WeneMedia) April 13, 2016
via @WeneMedia Ekspo waena: action is beginning in a tense situation. police brimob not allowsing time to go to  Office of DPRP