by West Papua Media
1310 pm April 13, 2016
#liveupdatesPapua Current data on arrest and police actions:
Merauke: 14 KNPB Arrests (names unavailable) approx 0900
Jayapura:
BREAKING: 12.30 PM: POLICE Apparatus in front of the gate UnCen has given instructions for the dissolution of the masses. #LiveUpdatesPapua via @lbhjakarta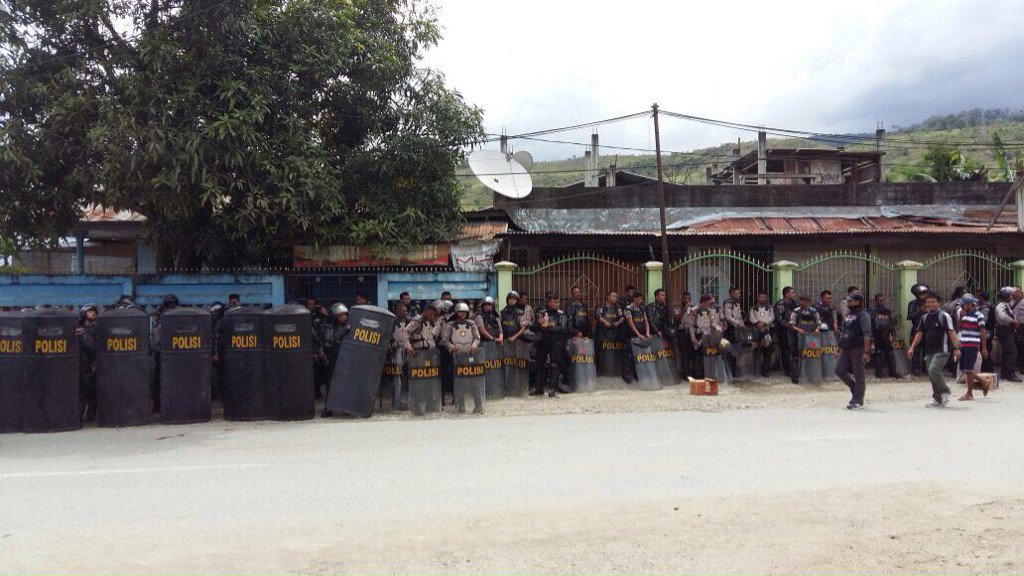 Many students joined the demo. It's in 3/4 of the way between Perumnas Camp Wolker Waena, and UNCEN.  Demo started at Expo junior to Uncen.
According to the director of ELSHAM (Insitute for the Study and Advocacy of Human Rights in Papua), Ferry Marisan,  after a mass of demonstraotrs and students grew to well over 700 outside Cenderawasih University (UNCEN), speeches and "orations" were conducted.  While the mass was peacefully listening to speeches and orations, Police moved in and forcibly confiscated phones and cameras off all KNPB members, either destroying them or forccing them to delete photos.  More details to come
Video of police blockade at UNCEN
[youtube
Kaimana: 14 people arrested and were detained at the police station Kaimana.
Yohanis Furay, Sekretarias Parliament,

Arifin Tanggarofa,

Lilian Tapnesa,

Ainia

Kurita

,

Simon

Egana

,
Agus

Surbay

,

S

epi

Surbay,

Melianus Siwari,

Stephen Esuru,

Abd Fata Watora,

Melianus

Surbay,

Joseph Surbay,

Elon Airabu,

Aser

Kubewa

,
ELSHAM is available to make comment on these arrests for international media.  Please contact +61498239869 for relay.