by WestPapuaMedia
May 2, 2016
Breaking News:
Arrests by Indonesian security forces of West Papuan demonstrators have just begun minutes ago in Jayapura,  as West Papuan people begin planned mass mobilisations to demand self-determination and referendum on the occupied colony's future.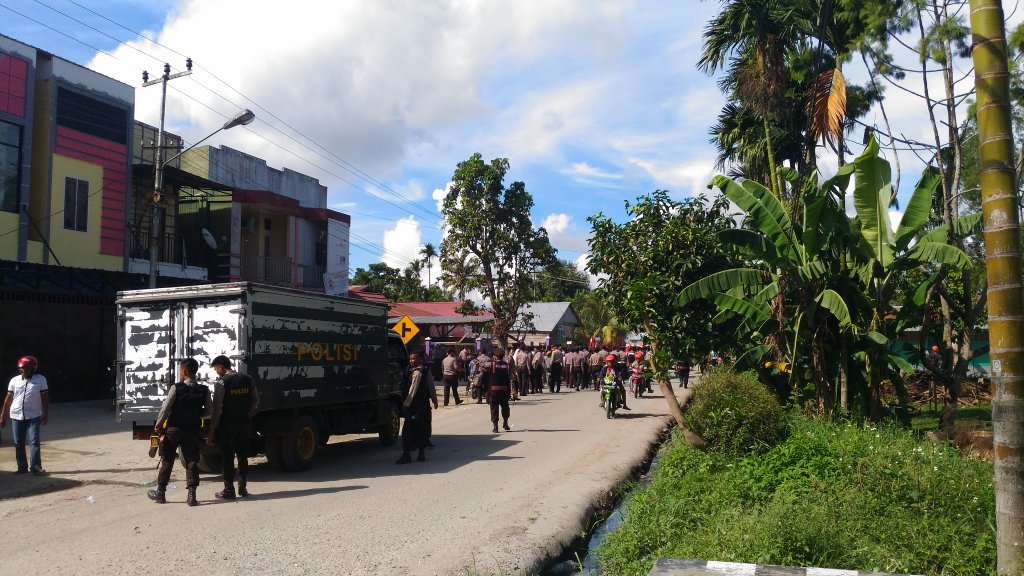 Blockade of police officers in the Old Market, sentani
Less than twenty minutes ago, at 0831AM local time, police officers led by the Jayapura region Chief of Police AKBP YERMIAS RUNTINI, have arrested approximately 10 students Cenderawasih University (UNCEN) students, at the gate of the UNCEN Waena student housing dormitory (Perumnas 3).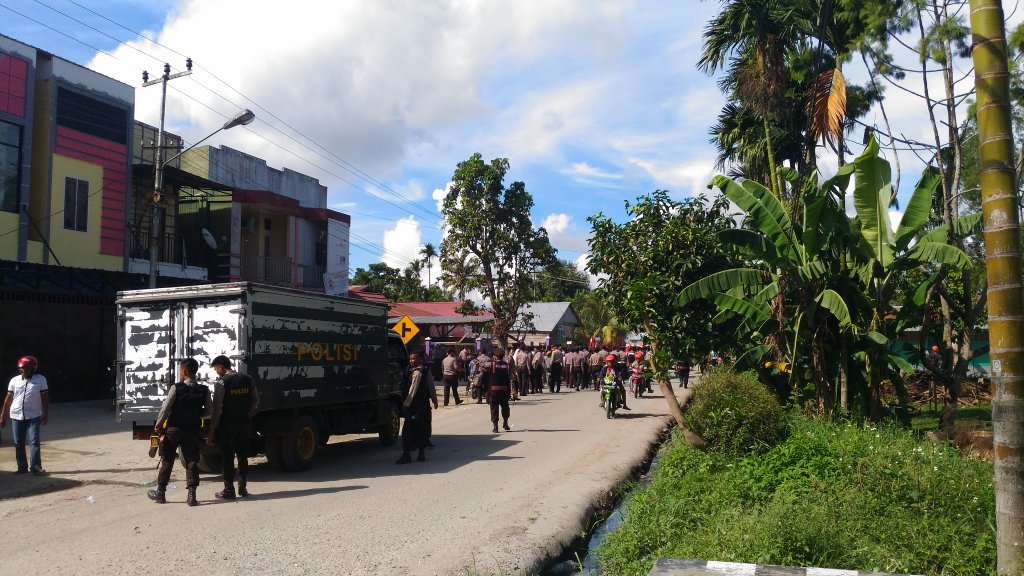 Police are currently barricading the road with barbed wire to the hostel UNCEN Waena hostel where the KNPB headquarters are located. Currently the police are also pursuing activists and patrolling around the Waena taxi roundabout.

Indonesian Police have also just surrounded and arrested (0845) the gathered  masses who were preparing to rally, filling 3 trucks with students, 1 truck of KNPB members, and two  trucks of civilians.
This comes after Reports from students in Papua have come in overnight of an attempted raid overnight at a  that failed due to student security preparations.
A platoon of heavily armed Dalmas Public Order riot police, allegedly containing members of the elite Australian-funded Densus 88 anti-terrorism unit, attacked the Cenderawasih University (UnCen) student dormitory in Waena, Abepura, at 0220 (AM) local time,  according to confirmed reports from West Papua National Committee (Komite Nasional Papua Barat or KNPB) officials.
However, students maintaining watch ahead of expected security sweeps overnight escaped into the night, thanks to an effective early warning system, according to sources, and the Dalmas platoon gave up the chase.
Raids have been occurring across Papua overnight by Indonesian security forces in a bid to terrorise Papuans into abandoning mass mobilisations across the country today, due to start at the time of publication.  Reports have come in from Wamena, Merauke and Manokwari of preemptive security sweeps overnight.  More information as it comes to hand.
The demonstrations are demanding for a referendum as an act of self-determination on Papuan aspirations, seen as treason by the Indonesian colonial government. Indonesian police in Papua have vowed to crackdown on all displays of "separatism" and have banned all gatherings.
The rallies form part of a global day of action under the social media hashtag #LetWestPapuaVote, and coincide with a historic gathering of the International Parliamentarians for West Papua network in the UK Parliament on May 3.
This is a developing story.  More information as it comes to hand.  Please follow the twitter hashtag #LiveUpdatesPapua for up to the minute coverage.
westpapuamedia